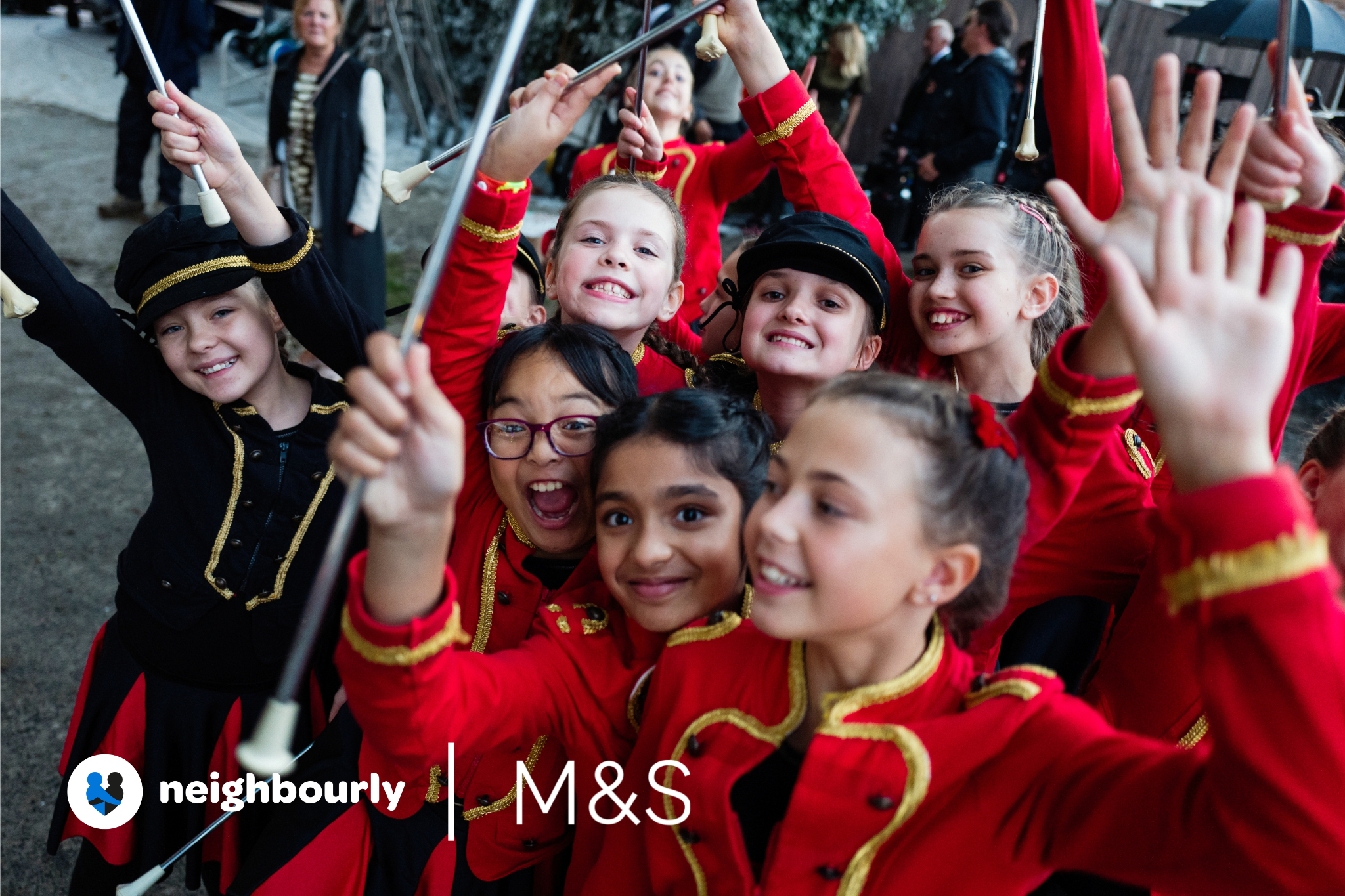 For Christmas 2022, M&S teamed up with Neighbourly to give one million pounds in donations across 1,000 small charities and community groups in the UK & Ireland through the Neighbourly Foundation*.
To celebrate, M&S brought together a number of these hardworking groups to feature in their Christmas TV advert, which you can watch below.
Find out more about three of these charities, who invited us to their hometowns to shoot behind-the-scenes footage of what a typical day looks like for them!
You can also find out more about the good causes who benefited from the grant
.


*The Neighbourly Foundation is a registered charity (charity no. 1189514).
Watch the M&S Christmas Ad
Meet the Stars of the M&S Christmas Ad
Kaotic Angels
With a mutual love of motorbikes and helping others, Kaotic Angels is a community group of serving and former military personnel, police, firefighters, ambulance and other frontline workers. They've come together to feed the homeless, deliver meals and help underprivileged children and those fleeing domestic abuse. Through all their good work, they hope to change negative public perception around the biking community and what they stand for.
The Y Centre Roller-skaters
The Y centre is host to an award-winning community of roller skaters and skate performers dedicated to offering a safe and welcoming environment for children and young people in the local area of Hastings. By making access to skating affordable and offering high-quality support and the opportunity to learn and improve skills, volunteers at the Y Centre help to encourage youngster's self-development and confidence, all while making friends, being active and having fun.
CaenHill Countryside Centre
Caenhill Countryside Centre is a not-for-profit community project, set within a 70-acre farm, that aims to support young people and those in care. Run by a team of volunteers aged between 4 and 86, Caenhill runs courses focusing on well-being and education with a mission to bring countryside learning and sustainability messages to young people and the local community at large, all whilst caring for abandoned and unwanted animals.
In 2015, M&S became a founding Neighbourly partner as they were leading the way in delivering their pioneering Plan A Sustainability strategy.
M&S's first campaign engaged thousands of staff in fundraising £900k for local causes in its first year, a success that led them to working with Neighbourly to develop a number of innovative and evolving programmes over many years.
M&S went on to launch mass volunteering, a network-wide surplus redistribution programme, customer food donation points and further rounds of targeted fundraising and grants programmes with wide-reaching social and environmental impact.