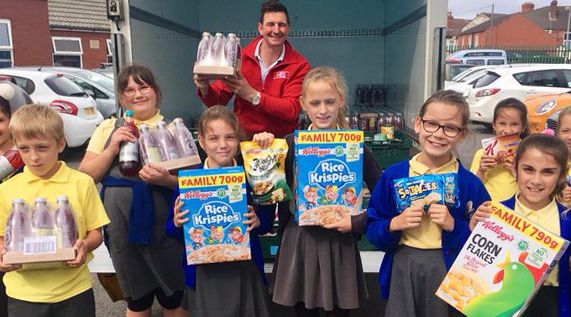 Be the
first to know

about donations, grants and volunteer programmes for your charity or organisation.
Neighbourly is a
free to use

giving platform, currently

used by over 20,000 good causes

across the UK and Ireland ranging from registered charities to schools, local community groups and community interest companies.
Through our partnerships with companies such as Aldi, Samsung, M&S, Sainsbury's, B&Q and Danone, we are able to offer regular giving programmes throughout the year - so you can use Neighbourly to partner with local businesses and get the right help and support for your good cause or charity.
Food and Products
Is your organisation in need of food to support services such as food banks, community fridges and lunch clubs?
Neighbourly has facilitated the donation of over 94 million meals worth of surplus food through the platform and over 1,400 tonnes of products such as books and household items.
Once you've set up a page for your organisation on Neighbourly, check out our FAQs to ensure you're ready to go when new food or product surplus opportunities become available in your local area.
Funding and Grants
By signing up to the Neighbourly platform, your charity or group will be the first to know of any new grants or funding opportunities.
Grants in 2021 ranged from £400 - £10,000 and were awarded to projects and charities working on everything from improving community spaces to climate education and tackling food poverty.
Applying for a grant is a simple process when your charity or group is registered - and you can view the status of your grant applications via the Neighbourly platform.
Volunteer Support
Neighbourly works with a number of business partners and their skilled teams to connect charities and causes with volunteer support throughout the year.
Employee volunteers can be involved in or one-off events or commit to supporting your charity on a regular basis - both remotely and in-person.
Previous volunteers have supported on a range of tasks from gardening and river cleans to marketing and fundraising support, befriending and careers advice for the people you support.
Frequently Asked Questions
Does my organisation need to be a registered charity to join Neighbourly?
Any charity, community group, CIC or school can create a Neighbourly page and receive support. However, we recommend adding a charity/CIC number to your page if you have one.
How can it be free for charities to take part in Neighbourly's giving programmes?
Neighbourly is B Corp which means we are a for-profit company with a social mission. This enables us to scale sustainably and provide a platform and service which is free for charities and community organisations.
Companies have a licence to use the platform, which means that any donations given by a company can go to your charity in full.
How do I get help for my charity or group once I've joined Neighbourly?
When you sign up, you'll be guided through setting up your Neighbourly page - do include as much detail as possible on your organisation as this will help our team of experts to find you and match you with relevant programmes.
If you are interested in food or product surplus specifically, head to our platform FAQs page, click 'Receiving surplus donations' on the left hand-side and follow the steps to get started.
What is remote volunteering?
In 2020, in response to social distancing restrictions, we launched a new programme of volunteering which enabled employee volunteers to provide support digitally from their home or work environment to charities and community groups.

The programme has been hugely successful and we are continuing to arrange hundreds of remote volunteering activities, with volunteers from our partner businesses helping with everything from data entry, websites and social media to befriending schemes and online advice sessions for beneficiaries. Support is given by individuals or teams, as needed.